Reading and the Evolution of Plants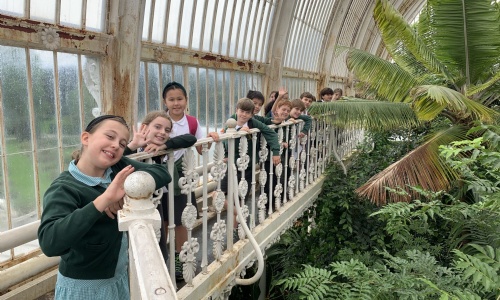 Year 6 really enjoyed their new role earlier in the week when they went into the three Reception classes to help our youngest pupils with their reading.
Our teachers were very impressed with the kindness, care and encouragement we showed to all of the children and we are looking forward to reading with our new friends every other week.
Our science ambassadors also wanted to tell you that last week we all had the opportunity to visit Kew Gardens to learn about the evolution of plants. We spent time in the Palm House where we looked at some exotic plants – we found out that giant bamboo can grow six feet in only 16 days. We also found out about plants that survive in different environments. In the Evolution Garden, we learnt about the order in which plants evolved, how they flower and asexual reproduction. We were able to examine some live samples. Did you know that the order of the type of plants that evolved on our planet is algae, moss, ferns, conifers and finally flowering plants? It is one of the most fun trips we have had. Thanks to Mrs Adams for organising it all!