Be scared. Be very, very scared.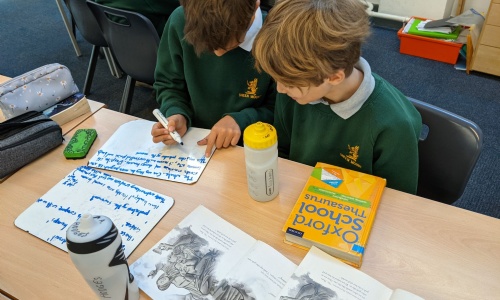 Over the past few weeks, Year 6 have been developing their figurative language skills in order to write an animal description. The children have analysed a paragraph from 'Hound of the Baskervilles', completed a shared write with a partner (pictured) and then gathered vocabulary and drafted their own description.
We have been very impressed with the quality of their writing, as you can see from some of the sample sentences below:
- No animal could be more malevolent, more malicious or more menacing than the misery-making monster.
- He was a dancer in the air; agile, athletic, astonishing, as he hurled himself towards me.
- On a cold, crisp morning in the Arctic, I was very bored. Life was missing something. Yes, it was a beautiful dawn, yes the water shimmered in the light, yes the snow was fresh and smooth, but I just had a feeling something was missing - something beautiful, something white, something immense.
- It had a beautiful white countenance below which its majestic brown body and array of tail feathers stood proudly and nobly; a ruler of all birds.
- I whispered, "Polar bear, polar bear, pursue your petty prey," and right before my very eyes it emerged from the ice.
- It beat its powerful, muscular wings, swooping and swaying like a kite on the wind.
- Lumbering towards me, it flexed its muscles menacingly and its cold, dark, dead eyes searched my soul.
- Its gills were like knife slashes upon its graphite body.