Kew Gardens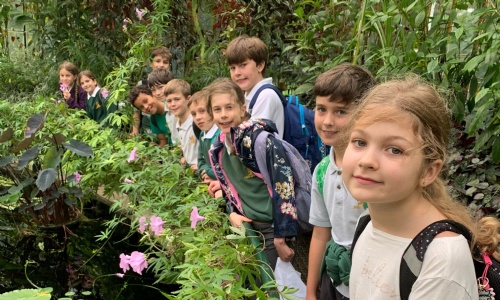 This week, we took a day trip to Kew Gardens.
When we arrived, we were split into two groups: half of us went to the workshop first and the other half visited the Palm House. In the workshop, we learnt about the evolution in plants. Paul, who was very interesting, shared his fascinating knowledge about the natural world. It was a brilliant way to start our new topic about evolution. In the Palm House, we were given a quiz to complete and had fun discovering new facts. It was a huge, inspiring building with many intriguing plants, where you felt like you have stepped into a tropical rainforest, surrounded by the great bamboo and trees with bananas, mangoes and papaya hanging from them. After lunch, we went in to the garden where there was a climbing frame, stepping-stones, slides and a canopy. We played all sorts of games. This was a very enjoyable day and we came home with many new facts in our minds.
Year 6 children
There are more photos of this day in the Kew Gardens folder.