Sheen Mount takes over Putney Arts Theatre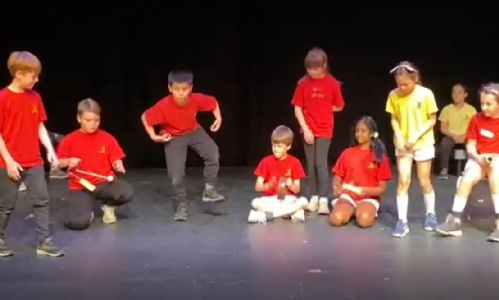 A roving reporter from 4HM has written this week's news article about our fantastic experiences in Putney Arts Theatre.
A few days ago, my class went on a journey to Putney Arts Theatre. Firstly, we were dropped off at the theatre by our parents and we ventured our way inside. Our eyes were greeted with a gargantious stage and hundreds and hundreds of rows of seats. We took our seats, then out of nowhere, an instructor with a pink frilly top exclaimed, "We will perform a show today!". We were going to perform 'Leon and the Place Between' which we have been reading in class. After some warm-up games, we were given our parts to play. I was a juggler and other parts included crocodiles with blood-red eyes and tin animals dancing around the frantically spinning carousal. Luckily, it was time for lunch as I was starving! After our stomachs were filled, the parents began to join us and take their seats. I was so nervous, it was like an electric shock climbing its way up my spine! The performance went well and the parents enjoyed it and clapped loudly. Overall, the day was amazing! I would love to go again.
By Ben B.