Position, direction and angles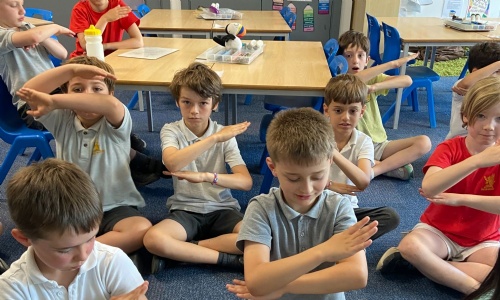 Do you know an acute angle from an obtuse angle?
Year 3 have started their new maths topic this week about position, directions and angles. They had great fun being robots and giving their partner directions using key vocabulary: quarter, half and three-quarter turn, clockwise and anti-clockwise and forwards and backwards. We have also been learning about angles and you can see the children making acute and obtuse angles with their body parts. Do you know which photo shows the acute angles and which angle shows the obtuse angles?
Linked to our science topic about plants and pollination, author Tina Talbot visited us. She is a local author who has written five books to date in an educational illustrated series called The Survival Super Squad, which aims to teach children about their environment through stories. Tina read to us her story about the Wilful Wildflower Fairies. The fairies aim to look after plants and pollination. The children loved hearing her story and we really appreciate her time spent in Sheen Mount. You can find out more about her series here: www.survivalsupersquad.co.uk.
We've really enjoyed hearing how the children's bean plants are growing at home, one child has reported his bean plant is 110cm tall. We wonder if anyone's plant will beat that?!