We passed the inn-spection!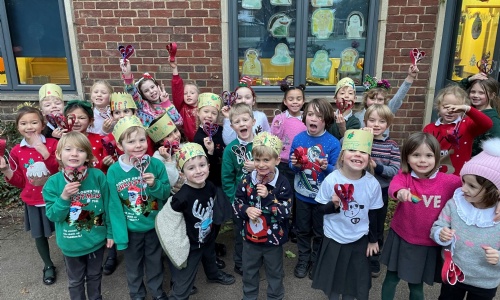 We have had an incredibly busy end of term full of Christmas fun! We loved performing our show 'The Inn-spectors' to you all last week.
This week in maths we have been investigating 2D and 3D shapes. We counted the edges, faces and vertices then sorted shapes based on their properties. We enjoyed comparing shapes and finding lines of symmetry on 2D shapes.
In English we finished writing our own version of Lost and Found and enjoyed retelling the story with our own animals.
In science we have been continuing our topic of materials. We carried out an experiment to see what happened to materials when we put them in the freezer!
In geography we have been exploring the seven continents then we had a closer look at the UK. We labelled the countries and capital cities of the United Kingdom and the surrounding seas. We particularly enjoyed using Google Earth to explore our area.
We have enjoyed Christmas activities this week too! Hope you all have a restful and enjoyable Christmas.