Floating and Sinking Oranges in Science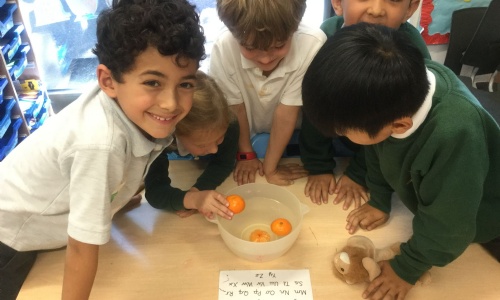 In Year 2, we have had a very productive learning week. In English, we enjoyed reading the story, 'Imaginary Fred' and created our own imaginary friends. We then wrote a character description of our new friend. In Maths, we demonstrated our understanding of number and place value, showing that we were able to partition numbers, order numbers and compare numbers. In History, we learnt about Samuel Peyps and the importance of his diary during the Great Fire of London.
In Science, we learnt about predictions and observations in an experiment. We observed what happened to a peeled orange and an unpeeled orange when put in water. Do you know what would happen? The peeled orange sank and the unpeeled orange floated! This is because the peel contains little pickets of air- which essentially keeps the orange afloat!
In Art, we explored using paint mixed with materials such as glitter, straw and crayons to see what would be effective for our Great Fire of London paintings. We are looking forward to painting these next week.