3, 2, 1, blast off!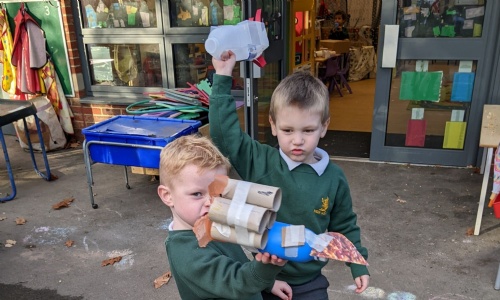 What a busy few weeks we have had in Reception! We have continued learning about the numbers 1, 2 and 3 in our maths lessons and have even thought about 1 and 3 sided shapes. We have been exposed to all of the phase 2 sounds in our phonics lessons now and are enjoying reviewing and practising these. Our PE lessons have focused on balance and control when jumping, skipping, hopping and running and the children thoroughly enjoyed completing circuits in their lessons to develop these skills.
Within our space topic, we have designed, built and evaluated our very own rockets! The children drew a plan, which included their user (astronaut) and purpose, and then spent the day making their vision come to life. We were impressed with the children's problem-solving skills and resourcefulness. The day would not have been complete without flying the rockets around the playground and seeing whether or not they could make it to the moon!
Have a look in the D&T folder to the right for more photos from this day.