Starry Night skies in Year 1 this week!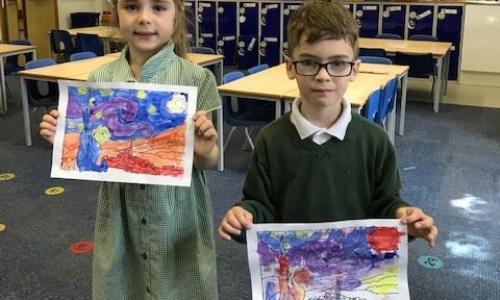 The children have enjoyed learning about the Battle of Stamford Bridge this week. They have completed different drama activities to explore what it might have been like as a soldier in the battle, as well as making freeze frames to show different events. The children did a brilliant job creating a story map to retell the events in more detail too.
​In maths we have been exploring doubling and halving through the use of objects and counting ladybird spots. The children have made links between this and multiplication and division.
In science we are exploring how plants grow and the children had a go at planting their own sunflower seeds which was very exciting. We are hoping to see some shoots come up next week, fingers crossed!
In art the children have been exploring brushstrokes when painting and have been inspired by the work of Vincent van Gogh. The children studied his Starry Night piece and had a go at recreating their own versions which look beautiful.
What a busy and wonderful week we have had!