Easter fun!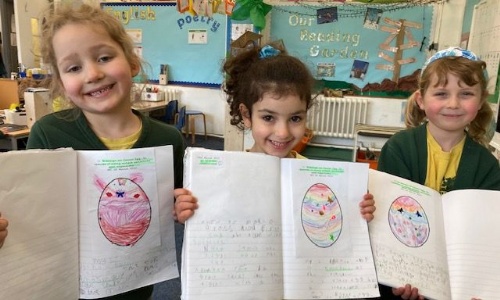 Year 1 have had lots of Easter and spring themed fun this week. They impressed us with their wonderful singing on Wednesday and enjoyed making the beautiful spring crowns they wore for their performance. We have also gone on Easter egg hunts, made Easter baskets and had fun completing some Easter themed artwork.
To finish off our plants topic the children made their own grass heads – which hopefully will flourish under your care at home! The children then wrote their own set of instructions on how to make them using bossy verbs and sequencing the instructions in the right order. We have also designed our own Easter eggs and the children wrote lovely descriptive sentences about their eggs, using words such as 'glittering', 'beautiful' and 'colourful'. How eggcellent!
In maths the children have continued to learn about sharing and fractions, by finding halves and quarters of objects and shapes. In art we have finished our work on printing by making spring flower images using prints of fruits, vegetables and objects in the classroom.
We hope you have a lovely Easter break and see you in a couple of weeks!​