Storrytelling, painting and Christmas!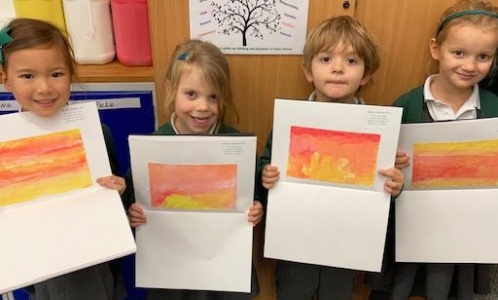 We have had a lovely creative week in Year 1!
This week the children have been busy writing the end to The Snail and Whale and have done a brilliant job of using time words to sequence the events in the story. We have been very impressed with how the children have used their phonic knowledge to sound out words, and have remembered full stops at the end of sentences too.
We have also kicked off Black History Month by learning about Mae Jemison, the first black women to travel into space. The children will be continuing to learn about her exploration in space in the coming weeks.
The children have started to explore different continents in geography and this week we looked at Africa. The children were inspired by images of African savannahs to use their colour mixing knowledge from art lessons and create beautiful sunset pictures.
In maths, we have been continuing to look at more than and less than with a focus using the symbols > for greater than and < for less than.
We ended the week getting in the mood for Christmas as we have made our Cauliflower Christmas cards that should be coming home to you today.