Visiting Buddy Classes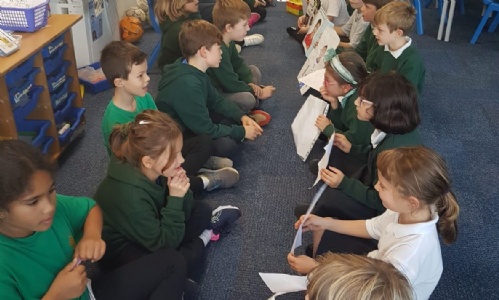 Children in year 4 took the opportunity to share the work they have been doing in Black History Month with buddy classes.
6H visited the 4T classroom and told the children about their new favourite author; Malorie Blackman. They very enthusiastically recommended that the children read Cloudbusting. Fortunately, there is a copy of this book in every year 4 classroom but when year 6 left the room, there was a mad dash to be the first to read it! 4T performed the poem Change Sings by Amanda Gorman and introduced 6H to Johnnie and Jemima who are 2 characters in a film from 1960s London.
Half of Doves class visited 4L and half of 4L visited Doves classroom. The younger children shared their home learning projects on Marcus Rashford and 4L also performed Change Sings to the year 2 children.
In other news, the children have been planning their own version of a Greek myth with their own made up terrifying beast and their own imaginary hero. They will be writing these next week and creating class mythical story books. We are all looking forward to dressing up on Wednesday and enjoying a day of Ancient Greek activities to round off this exciting topic.