World Book Day fun!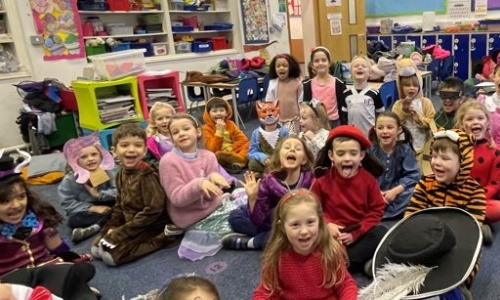 Year 1 have had a brilliant week. We continued to explore poetry and looking for onomatopoeia in poems. We then thought about sounds we might hear from looking at busy pictures and wrote our own onomatopoeia poem.
In maths, we have been looking at grouping objects into 2s, 5s and 10s. We then learnt to write this as a repeated addition sentence and are moving onto writing it as a times sentence.
In science, we have discussed deciduous and evergreen trees and sorted these. We also enjoyed learning about the differences between rural and urban areas in geography and discussing whether Richmond was rural or urban. We linked these features of rural and urban places to our own experiences too. In music, we started listening to 'Dawn' from Sea Interludes by Benjamin Britten and enjoyed watching the orchestra perform.
We also had lots of fun on Thursday dressing up as our favourite book characters! We wrote a character description about them and had an assembly guessing the teachers' favourite children books from their clues.