Dear Parents,
I hope you enjoyed the parent consultation meetings last week. Over the course of the next two weeks we will continue to look at the children's teaching and learning through two events. We have pupil progress meetings, whereby each class teacher meets with the senior leadership team to discuss their class. The extended leadership team are also walking around the school next week to look at teaching and learning.
Moving forward with the parent consultation events and looking at the timings of when appointments were booked, we will have two nights in person and one online for the Spring Term meetings.
Thank you to the Year 6 team and the Year 6 children for their mature, moving and skilled Remembrance Assembly last Friday. Our Year 5 children joined as an audience as well as parents of Year 6 children.
We begin the countdown to the Christmas fair which will be on Saturday 3rd December. The always popular staff raffle tickets will be on sale from Monday 28th November before and after school, as well as on the day of the fair, with the staff running the stall. More details are below in the PSA section for the Christmas Fair.
A reminder it is Children in Need day tomorrow.
This will be our focused whole school charity collection for this half-term. As it is the 'Great Spotacular', we suggest wearing something spotty as you wear your own clothes and have a 'Be Yourself' day. Please donate through the link below.
https://www.justgiving.com/Sheen-Mount-Primary-School10
Parent volunteers
Thank you to all those who are currently volunteering in the school. The school is hugely grateful for the contribution you are giving to each school day. There is a range of support from listening to children reading, to helping with the Year 1 carousel learning activity through to those helping children who don't speak English-even including some ex parents!
If you wish to contribute please fill in this form or if there is a direct link to your class or year group speak to your class teacher.
https://forms.gle/XvBPjdnLjynyCdSb8
School events
Year 4 experienced a forest school day last week. The children enjoyed an exciting day where they experienced activities such as measuring trees, scavenger hunt and orienteering. More details are in the Year 4 section.
Sports
Girls football-borough tournament-Winners!
A significant highlight of this week (and any other) on the sporting front has been the Y5/6 girls football team becoming borough champions at NPL in Teddington. I was fortunate enough to have the time to join Mr March and the team for the knock-out stages in the afternoon.
What followed was a succession of 1-0 victories all the way into and including the final, as the weather worsened.
Well done girls, a fantastic achievement-remaining unbeaten through your 9 matches and being deservedly crowned Borough Champions out of the 32 schools that took part. They played with great team spirit, a determined attitude, yet a sense of sportsmanship with the other teams.
Y5/6 Basketball tournament
Just this morning they have been playing in a Richmond Knights tournament. The team did very well, playing 6 matches and winning 4. They returned to school with their bronze medals.
Y5/6 trip to Twickenham for England v Japan
19 lucky children were able to attend this fixture last weekend. After enjoying the atmosphere on the walk to the ground from Richmond, they were then treated to a high scoring game. The luxury of locating the free shuttle bus back to Richmond was appreciated by all after a great afternoon out.
Birthday books- a reminder
We are reintroducing the birthday book donation to a child's class. When it is your child's birthday, they may donate a new book to the classroom. They can bring it in wrapped up and then talk to the class about the book. We will also ensure it is labelled inside the front cover with your child's name. The book will remain in that classroom for the foreseeable future. If your child has already had their birthday this academic year, they are very welcome to still make a book donation.?
Christmas fair and wear your own clothes day
The Christmas fair is coming up on Saturday 3rd December. We look forward to announcing some new exciting eating options available at the fair.
We traditionally have a wear your own (Be Yourself) clothes day and children bring in a bottle for the bottle tombola. The date will be Thursday 1st December. You'll see from above this is the same day as the STEM day, which works well as the children will be in their own clothes for this interactive day.
Travelling Book Fair
We are delighted to be able to host the Travelling Books Book Fair this month. As per Miss Breckon's email, the school receives money for every purchase made.
It will be available to It will be available to visit from Monday 21st November to Thursday 23rd November, bringing you a range of the latest children's books. The fair will be open after school pick-up from 3:30-4pm.
Kindness advent calendar
Please see some interesting resources from the British Red Cross around some kindness activities over the festive period relating to the snowman. https://www.redcross.org.uk/get-involved/teaching-resources/the-snowman-and-snowdog-kindness-calendar
Christmas sacks
Hopefully you have seen the other communications around the Christmas sacks. It is always worthy to think of others at this time of year.
The school will be supporting a local charity where children put contents in gift bags that go to those in need in the community.
https://www.richmondgoodneighbours.org.uk/
Meet the caterers
A reminder of this event - thank you to those that have signed up.
There will be an opportunity for parents to come in and talk to our caterers, 'Accent'. There will be a service of smaller portions for you to taste. The event will start at 2.30pm on Friday 25th November and finish by pickup. Please sign up here if you are interested. The form will close on Monday morning.
https://forms.gle/Nd94QGsEdUfik1RMA
100 club
Congratulations to our latest winner.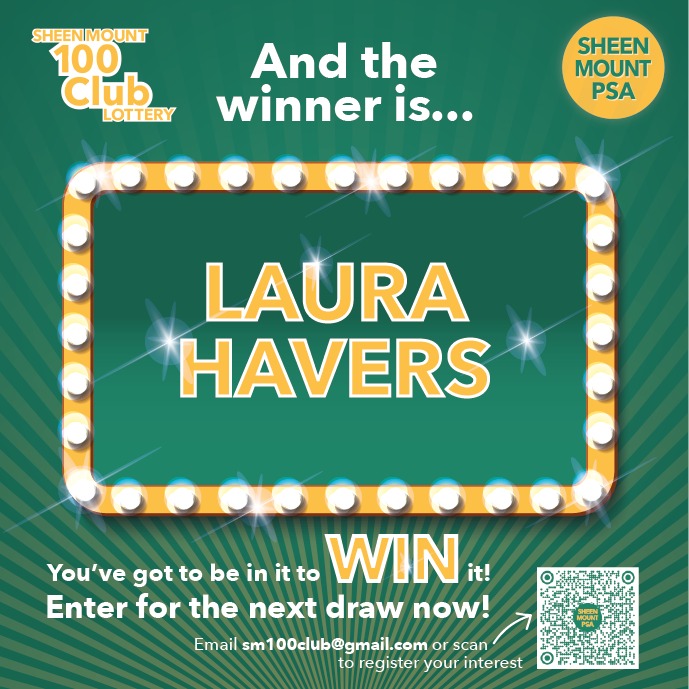 PSA
We are sure that you're feeling it too but there's a lot going on in the PSA calendar at the moment! The Autumn ball this Friday, and planning for the Christmas fair on the 3rd December are the two big ones! Thank you to everyone involved so far in bringing these events together - for Rania and Penny and the class reps bringing Christmas to Sheen Mount and to Cara and Jodi leading the ball committee and creating what will be an amazing fundraiser.
On the subject of events, we are currently collating data on what types you would like to see taking place next year. Please take 30 seconds to complete this
survey
. Please do get involved in all of the above and we welcome you volunteering your time as well as your donations.
Here's a reminder on dates:
Friday 18th November -
Loo Roll collection for the Christmas Fair craft stand! There will be a big container near the ping-pong table clearly marked, so drop them in there at pick-up or drop-off please.
DEADLINE for ordering your Christmas tree for pick up on the 4th of December (see classlist for more details)
Thursday 1st December
DEADLINE for returning your raffle ticket stubbs and cash to your class teacher, tickets will be distributed in your children's bags already.
Be Yourself Day – children to come dressed in own clothes and bring in a bottle or cake for the tombola! Also this day is STEM Day. See the latest newsletter for more info.
Friday 2nd December -
DEADLINE for Secret Santa donation collection - donations are being collected all the way till Friday 2nd of December. Tubes for donations can be found in front of the school office.
Sunday 4th December
Xmas Tree collection from the School between 2-4pm
And don't forget to
get your tickets to visit Santa in his grotto at the Christmas Fair
- tickets available on Classlist.
The Autumn Ball & Sheen Mount 2022 Christmas fair, is made possible by a huge collective effort by our entire school community but we would like to take a moment to thank our sponsors, be they cooking up a treat, at the fair, donating some killer prizes or helping us financially, so that we can put on a showstopper event and raise as much as possible for our school. So a special thanks to The Ledbury and Chicken Kitchen, Beaufins, Property Partnership and Swimway.
And finally....... A huge congratulations to our latest 100 Club Lottery winner Laura Havers! Lucky Laura has won herself £100!
For just £5 per month you could be in with a chance of winning £100 a month all while fundraising for the school. Get in touch now to enter the next draw and this time next month it could be you!
Communication
A reminder, I am more than happy to speak to parents at drop off and pick up, or you can contact me directly at:
headteacher@sheenmount.richmond.sch.uk
Have a good weekend

Tom Holmes - Headteacher

Maria O'Brien - Deputy Headteacher