Dear Parents,
Thank you to all of you who contributed time and put an enormous amount of effort into the summer fair. It was a wonderful community occasion with families having a very enjoyable time.
We have also had our two sports days this week - more information is below. We look forward to having both of them on Sheen Common next year as the KS2 event was very successful.
We completed our year group (KS2) or class assemblies this week. Thank you to the teachers for squeezing them all in this first term when we were actually able to invite parents in. They will be spread out across the year from September. On a similar note, we are looking forward to our two evening performances of the Year 6 production next week.
You will be sent your child's report today and the class lists for next year with the staff profiles. We look forward to a short session with their new teacher on Monday (children come in at normal time and go to their usual classroom). We will welcome our new teachers to the school as well.
A reminder that the end of term is Thursday 21st July with school finishing at 2pm for R/KS1 and 2.10pm for KS2.
School events this week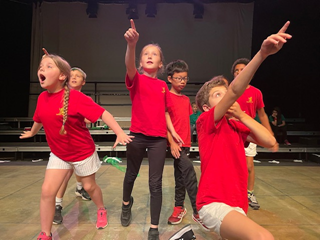 Each Year 4 class visited the Putney Arts Centre on a different day to put on a play with the theatre group 'Group 64'. See some comments below.
Isla - I loved the fact we all had a different part to play.
Zac - It was a really interactive experience, for example the narrator would not just say purple dust appeared - we had to make it happen!
Rose - I was just amazed we were able to create a whole play in just 1 day. Ours was called Leon and the Place Between.
5D visit to the Apiary
5D got the opportunity to visit an Apiary in Holland Park. As you can see from the photos, there were many interesting costumes and things to do!
Children's comments-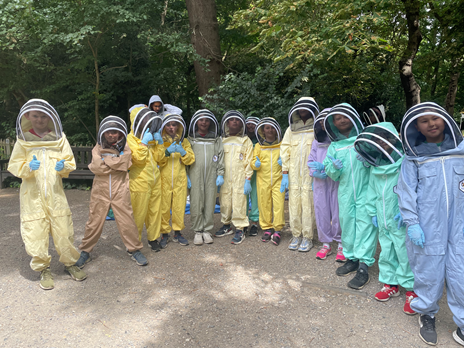 Oliver H: It was an amazing day. I really enjoyed putting on the bee suits.

Olivia: I used to be scared of bees but now I'm not, after seeing them in their hives.

Savannah: I really enjoyed looking at the flower garden and identify the different colourful flowers.
Sports Day
Well done to all the children for their efforts in the sports days. A thank you to all the staff, particularly those who helped co-ordinate the events - Mr Kennedy in KS2 and Miss Bolton/Mr Stefanini in KS1/R. We enjoyed having the KS2 event at Sheen Common, and we will look to continue this moving forward, as well as having the R/KS1 event up there next year.
Please see the results below!
| | | | | |
| --- | --- | --- | --- | --- |
| | Blue | Green | Red | Yellow |
| R/KS1 | 1252 | 1263 | 1464 | 1269 |
| KS2 | 2323 | 2223 | 2211 | 2176 |
| Total | 3575 | 3486 | 3675 | 3445 |
| Overall | 2nd | 3rd | 1st | 4th |
Sponsorship
One of our teaching assistants, Sam Burlow, is having her head shaved for Macmillian cancer charity. If you would like to donate or find out more, please click here- https://bravetheshave.macmillan.org.uk/shavers/sam-burlow
Communication
A reminder, I am more than happy to speak to parents at drop off and pick up, or you can contact me directly at:
headteacher@sheenmount.richmond.sch.uk
PSA Corner
After the madness of the last few weeks, you will be pleased to find a more abbreviated message from the PSA committee this week!!
First of all, another huge, enormous, gigantic thank you to all who helped organize, volunteered at and attended last week's Summer Fair. It was delightful to see the entire school community back together at such a fun event. In the process, you have all raised over £15k for the school!! A big success on all fronts… thank you again!!
We have a few on-going initiatives as we head towards the finish line of the summer term… thanks in particular to Sedi Keshavarzi and Zoe Stuart for spearheading the book drive!
Plant Sponsorship – the plants and trees have now been planted in the courtyard and year 1 beds. Please consider sponsoring one of these lovely plants and help improve the aesthetics and sustainability of the school! See Classlist for more detail or go to the below link:
https://app.classlist.com/events/#/events/view/866482110
100 Club - To be the next £100 winner, email sm100club@gmail.com to sign-up ahead of the July drawing. We have a number of people who have signed up, but have not completed the forms, so we will be in touch again shortly. The more the merrier… you've got to be in it, to win it!!!
The Sheen Mount Library Needs Books - We are updating the amazing Sheen Mount library and need more relevant and up-to-date books. We have put together an up-to-date list of both classics, modern fiction and non-fiction books to which our kids should have access in order to enhance their primary education. This compilation is based on many primary school aged recommended reading lists, including the school's key stage recommended reading lists. We are asking for books from the attached "wish list" ONLY and in good condition please. If you don't have a good spare copy of any of the books but still want to help out, you could buy and donate one via the Amazon Wish List below - most of the books on the list are under £10. And the best part is that if you do it via Amazon Smile the school will get an automatic donation!
https://www.amazon.co.uk/hz/wishlist/ls/XZM329G5YH9R?ref_=wl_share
Alternatively, book vouchers are also welcome! If you have any questions, please email Sedi Keshavarzi directly (sedi99@hotmail.com).
Donated books can be left in the box marked "Library Books" outside the school office from tomorrow until the end of the term. If you would like to donate a book voucher please email Sedi directly.
Finally, if you know of any children's book publishing companies that might be interested in donating books to our school, please email Sedi.
As always, if you have any general PSA-related questions or want to get involved, please contact us via email (smpsachair@gmail.com) or through the class reps.
Have a good weekend

Tom Holmes - Headteacher

Maria O'Brien - Deputy Headteacher