Dear Parents,
A multitude of events and opportunities have taken place for the children this week, please see below for more details.
Thank you to those parents who attended the Ofsted meeting this morning. We will provide the slides and an update on any additional questions asked within the next week. Thank you to those of you who have offered such supportive words since the publication of the report.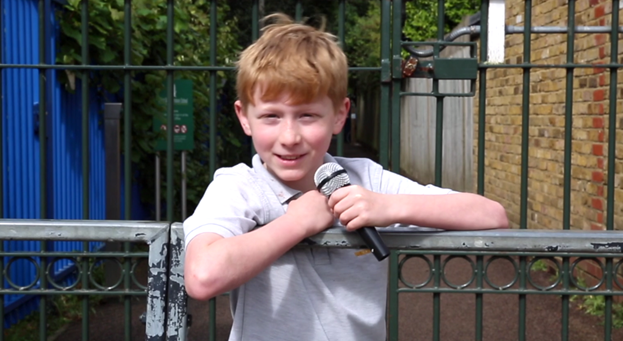 Those who did attend were also shown the premiere of the new school film - a prize won by the parents of Leo (Year 6) at the ball last year. We look forward to sharing this with you in the very near future. Many thanks to Laura Starbuck for all the time she has given to film and produce this.
We welcomed our new reception intake for 2022 - 23 for their first event at Sheen Mount this week - they enjoyed a stay and play session in the reception area. We look forward to inviting them in for further events this term.
The fun run was a lovely community event last Saturday and enjoyed by everyone. Thank you to everyone who took part. We are now looking forward to the disco on Thursday 30th June and the summer fair on Saturday 2nd July. A reminder to wear your own clothes on Thursday for the 'Be Yourself' day which helpfully coincides with the disco and remember to bring a bottle or cake on that day for the summer fair.
Motto/teams
Please find attached the options the children and staff will vote on in the coming weeks. The school council have already been used as a focus group. Please discuss with your children and the vote will be in the w/c 11th July.
Staffing
After a long and very important association with the school, our caretaker Steve Brooks is retiring and moving to Spain at the end of this academic year. After the staff versus children football match on Wednesday, Steve did stake claim to his unbeaten winning record in this event! We wish him all the best and thank him for his considerable contribution to the school over many, many years. We will look forward to celebrating his retirement with him. With the departure of Mr Brooks before the next academic year, we are advertising for a new premises manager to start the role in September.
https://uk.indeed.com/jobs?q=sheen%20mount&l=England&from=searchOnHP&vjk=7a3032c3984a0de2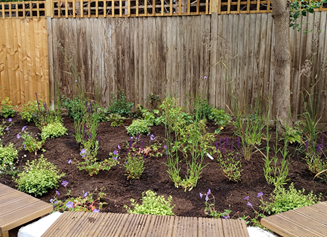 School events this week
Thank you to all those parent volunteers and staff who transformed the front bed outside our school office this week. After some hard gardening work on the 'clear up' day a few months ago, some planting took place on Thursday and what a difference it has made. Many thanks to Charlie, Maria, Andrew and Ewa who worked so hard and the Year 6 children who have been charged with watering the plants from now on.
Here is a before and after photo of the area. What an amazing transformation. It makes such a difference to the entrance of the school.
Continuing on the gardening theme.......
Requests for the school garden
Ewa Hay and the school gardeners would kindly request your help with the following items: any spare compost, bamboo canes of any size/length, undamaged egg cartons and packaging wool.
There will be clear marked boxes outside the main reception of the school to drop off any of these things.
Year 5 Singing Event
On Tuesday, a group of Year 5 singers went to Ibstock Place school to take part in a singing workshop. They learnt a medley of songs from The Lion King and this is what they said about the day:
Martha: I enjoyed meeting new children from different schools and learning how to put the medley together whilst singing in harmony.
Isabella: I thoroughly enjoyed the experience and loved singing with my friends.
Ava: I enjoyed singing the harmonies from the Lion King.
Emilia: I enjoyed performing in front of parents with other children but most of all I enjoyed singing with my friends.
Barnes Literature Festival
Children from Year 5 and Year 6 were given the opportunity to go to an interactive workshop with author Ross Welford.
Bea: I enjoyed creating the story with Ross Welford because it was imaginative and fun.
Charlie: I enjoyed him telling us how to structure and make a story.
Lara: I enjoyed when Ross Welford linked books to magic and we were shown tricks, but associated with books.
Ollie: I enjoyed finding out what his favourite book was when he was a child - which was 'The Illustrators Book of Magic Tricks.'
Communication
A reminder, I am more than happy to speak to parents at drop off and pick up, or you can contact me directly at:
headteacher@sheenmount.richmond.sch.uk
PSA Corner
It's been another busy week for the PSA, with the fun runs last Saturday, the planting of the beds yesterday and continued preparation for the upcoming discos and Summer Fair!! We know it is particularly busy… and at an already busy time of year… so appreciate all the help everyone is able to offer.
The events we are putting on are designed to both bring our community back together post the distance of the past two years and help raise money for the school. Hopefully we all are seeing the benefit of both aspects. On the fundraising front, the fun run made £850, the Smarties Jobs another £440 and the plant sponsorship is off to a good start too! Every little helps to support our school.
Plant Sponsorship – the plants and trees have now been planted in the courtyard and year 1 beds. Thanks to Charlie Nelson, Maria Burgon and teaching assistant Ewa Hay who took time out yesterday to finish the job. Please consider sponsoring one of these lovely plants and help improve the aesthetics and sustainability of the school! See Classlist for more detail or go to the below link:
https://app.classlist.com/events/#/events/view/866482110
Disco / "Be Youself Day", 30 June – Disco tickets selling fast! We have music and lights from Mads Hauge, prize giving from Mr Holmes and plenty of dancing guaranteed!
Reminder for Year 1 and 2: Children in Year 1 and 2 will be taken straight from their classrooms to the school hall by their class teachers for a 3.30 start. Please collect promptly at 4.30.
Click on the link below if you haven't got your tickets yet!
https://app.classlist.com/events/#/events/view/818730735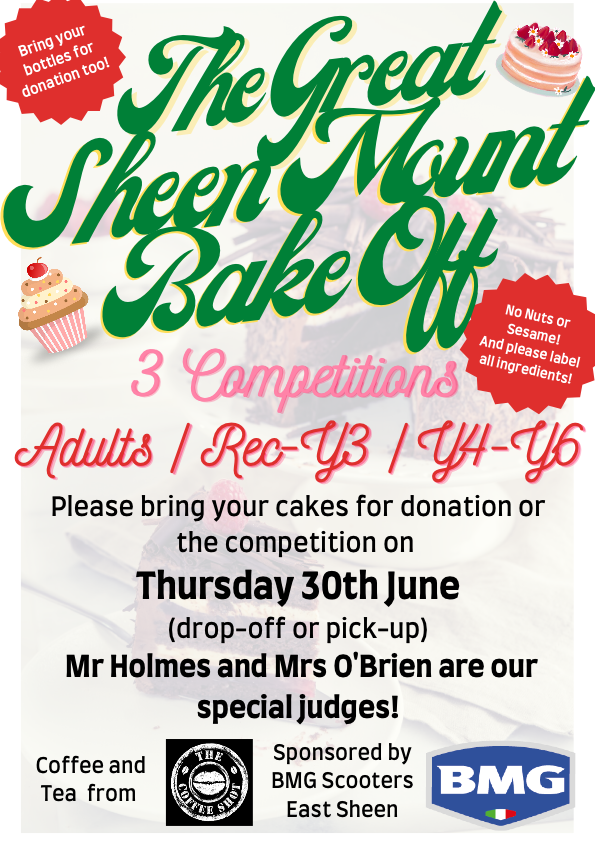 The Sheen Mount Summer Bake Off is back! We are running three competitions this year: adults; reception to Y3; and Y4-Y6. Prizes for the winners and runners-up. You can bring in your cakes on Thursday 30 June as either payment for "Be Yourself Day" or as an entry in the competition! Mr. Holmes and Mrs. O'Brien are our special judges!! Again, please label the ingredients and no nuts or sesame. More details below.
Any questions please email 4hsheenmount@gmail.com.
Summer Fair, 2 July, 11am - 3pm – only a week away now, with all class years working hard on their respective activities! Some notices below regarding the toy donation and the two raffles. We are card, cash and tokens, but aiming mainly for card payments please!
Toy Stall - Reception Reps have collected everyones' donated toys. Thank you very much!! If you have a big item (e.g. bike) to donate, please drop off on the morning of Friday 1 July.
Raffles - Please remember to send back your filled out tickets and money in an enclosed envelope by Monday, 27th June. Please either hand them to your teacher or send back in your child's bag. If you aren't buying / selling tickets please could you send the blank ones back in for us to reuse. Next week, before and after school, we will also be selling tickets for the Teachers' Raffle. The children love this raffle, so please pop in to see what wonderful prizes the teachers are offering. We will of course be selling tickets at the Fair as well - see you there!
Have a good weekend

Tom Holmes - Headteacher

Maria O'Brien - Deputy Headteacher