Dear Parents,
A sun filled week with numerous activities and events going on. From class assemblies to sports events to another full week residential (Y5)- there have been lots of events for the children.
I look forward to the various PSA events coming up; the fun run tomorrow morning and then the fair on Saturday 2nd July - whilst not forgetting the disco on Thursday 30th June. Thank you to all those who have volunteered in any way to support these events. You will see from below that wearing your own clothes' day to school for the Summer fair will be combined as the same day as the disco. Please donate a bottle for the summer fair on this day.
Staffing
As mentioned a few weeks ago there are some changes to update you on:
Congratulations to Mrs Hole who is the new EYFS lead. Despite spending all of her time teaching Y5/6 at Sheen Mount, all her training specialised in EYFS.
Miss Bolton will be the KS1 phase leader maternity cover next year whilst Mrs Bakrania-Ashton is on her maternity leave.
Mrs Hope-Evans is going to be an SEN support teacher for 1 day a week in the school and she has decided to relinquish her two days in class. We look forward to her working together with Mrs Jeffrey. Mrs Porter (Mrs Hope-Evans job share) has also decided to move on to work outside of teaching.
Congratulations to Mrs Mold (3MW) who has been appointed deputy head of the Alton school Wandsworth. She is returning to school leadership having previously been an Assistant Headteacher when working full time.
Mrs Mortimer is due back from maternity leave in September and will class share with Mrs Webster.
We therefore appointed two further teachers this week - again we had a very competitive field with more applications than our previous advert in March. We will send you the staff profiles (which will include new teachers) and the information for the classes for September 2022 on Friday 8th July. -Children will then spend some time with their new class teacher on Monday 11th July.
Y5 trip to the Isle of Wight
You may have seen the pictures of the Y5 residential trip on twitter this week and I visited on Wednesday. The children had a great time and here are some of their comments. Once again, thank you to the staff who gave up their time for this trip.
Lowri/Parisa- We loved the chairlift and the view and the beaches. it was a great experience
Tomas - I really enjoyed walk up Tennyson Down. It was long and hot, but the views were amazing and worth the walk.
Sasha- I really enjoyed the fossil hunt, it was an excellent experience - I found a geo fossil.
Martha - I've really enjoyed the beach time and seeing and playing with the people from the other bus. I've enjoyed paddling, sand sculptures, gymnastics, football
Isabel - I really enjoyed Osbourne house. Looking at the artefacts and paintings and I learnt that Queen Victoria had her own lift!
School events this week
We have enjoyed three class assemblies this week with all three Y2 performances. It was great to hear about their learning through the year and enjoy some choreographed and free-style dancing!
Singing festival - A group of Y4 and Y6 children in the choir visited the Rose theatre as part of the singing festival. Lots of enthusiasm was shown by all.
Y3 safer walking - you may have seen various Y3 children in the local area in small groups with their hi-vis jackets on over the past week. Alongside cycle proficiency this is a valuable bit of learning and training for the children.
Sporting events - three substantial sports events have happened across the last week.
Swimming-the borough swimming gala happened last week and despite not having our Y6 swimmers the children performed with great effort.
Cricket - the Y6 boys team played in the borough event this week. They won their three group games and then the semi-final. Unfortunately, they narrowly lost in the final. However, finishing 2nd in the borough is an excellent achievement,
Athletics - unfortunately the substantial borough sports event was unable to take place this year. However, we entered a Y6 team at the locality event at Barn Elms involving 8 local schools. Well done to the team who finished 2nd overall. Special congratulations to Anneli and Lotte who finished 1st and 2nd individually in the overall competition. Each child competed in a sprint, long distance, throw and a jump event.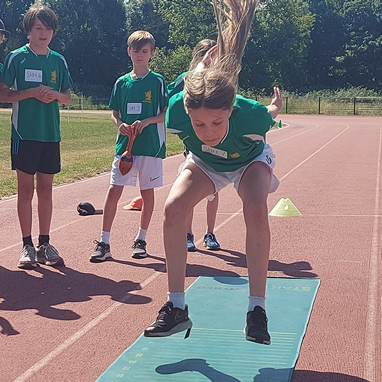 Train strike
A reminder of the planned train strikes next week. The roads therefore could be substantially busier. Please consider this in your journey times if you take the car to school.
Community news
One of our parents is swimming the English Channel as part of a four-person relay. They are swimming in memory of their father and in aid of Neuroendocrine Cancer UK. If you would consider donating a small amount, please click here. Good luck to Patrick Coffey.
Communication
A reminder, I am more than happy to speak to parents at drop off and pick up, or you can contact me directly at:
headteacher@sheenmount.richmond.sch.uk
PSA Corner
PSA – newsletter contribution 17 June 2022
We are looking forward to seeing everyone for the Fun Runs tomorrow morning! Let's run fast and stay cool! We already have a full roster of events for the coming weeks, including the runs, discos and the Summer Fair. Again, please make time to volunteer for some of the events, as we need everyone's help to make sure these community events are possible. Thanks again for those who have already come forward, the Committee really appreciates it!
Fun Run, 18 June – we look forward to seeing everyone tomorrow morning for the two Fun Runs, one on the school grounds for Reception and Years 1 and 2 and one from Sheen Gate, Richmond Park to school for Year 3 and up. Refreshments and prize giving afterwards. Sign-ups have now closed. Public Safety Announcement – we will have refreshments for sale, but please bring water for the kids given the heat.
Plant Pledge, June – new plants will be delivered next Thursday for the main bed in the entrance courtyard. Please keep an eye on Classlist in the coming days as we look for plant sponsorship to raise funds for the completion of the job. Huge thanks again to Charlie Nelson for all his horticultural help!
Disco / "Be Yourself Day", 30 June – the Sheen Mount Disco is back! Happening on June 30th (during wear your own clothes day). Please sign up on Classlist, if you haven't already, to buy your tickets. Fruit juice, fruit snack and lots of dancing guaranteed! On the day of the disco, children can wear their own clothes in exchange for a cake/bottle donation that will be used in the Summer Fair. Please ensure that this is dropped off at school on the same day as the disco (June 30th). If donating cakes, they need to be labelled as gluten free, no nuts, no eggs. This is very important. We really appreciate your support!
The Sheen Mount Summer Bake Off is back! We are running three competitions this year: adults; reception to Y3; and Y4-Y6. Prizes for the winners and runners-up. You can bring in your cakes on Thursday 30 June as either payment for "Be Yourself Day" or as an entry in the competition! Mr. Holmes and Mrs. O'Brien are our special judges!! Again, please label the ingredients as above. More details below. Any questions please email 4hsheenmount@gmail.com.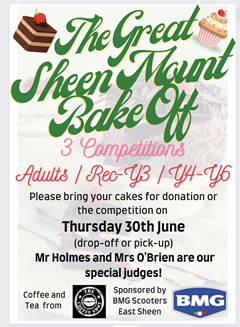 Summer Fair, 2 July – only a couple of weeks away now, with all class years working hard on their respective activities! Reception Reps are continuing to look for toy donations… and the Midsummer Grotto tickets go on sale on Sunday!
The reception reps are organising the toy stall for the summer fair, and we are collecting toy donations please! Please bring any GOOD quality toy donations you have to the table near the PSA shed and leave in the box provided, after drop off any morning between now and Friday 24th June. Please do ensure they are good enough for children to buy - jigsaws/puzzles are complete and nothing is broken or dirty - and if possible, please include batteries! We will be looking for toys for younger and older children. Thanks a lot, Reception reps.
Come join us live at the Summer Fair for a very special Sheen Mount version of a Midsummer Night's Dream written, created and produced by Sheen Mount parents and performed by the super talented Sheen Mount alumni, Louie, 6H pupils Emmie and Amelia and secondary school Harrodian pupils.
Meet the mystical Oberon, Titania and Bottom in their magical kingdom, echoing the fantastical world of Midsummer Night's Dream. Will the Faery King Oberon win back his Faery Queen? Who knows? You'll have to come and see.
Full of wonder, laughter and magic, it's an experience suitable for all the family - boys and girls of all ages. Performance is 15 mins in duration. Tickets will sell out fast so please buy yours ASAP to avoid disappointment. Please note we have one SENS show at 11am available.
£7 a ticket. On sale on Classlist from Sunday. Click on calendar, select event, click GET TICKETS.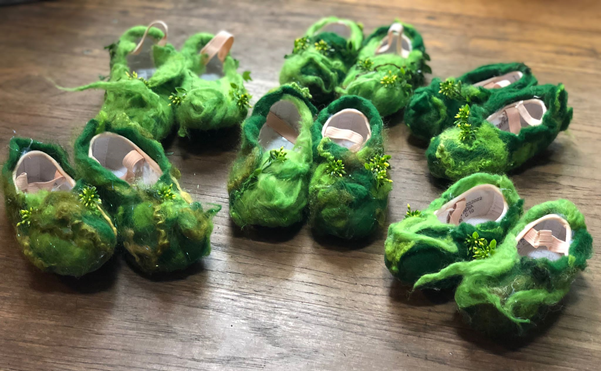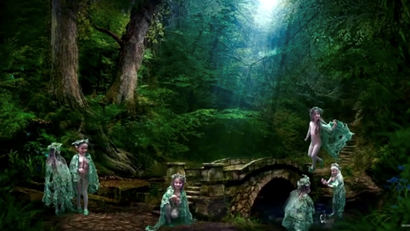 Your PSA Needs You! - we continue to appeal for new joiners to the PSA Committee ahead of the 2022/23 school year. We have a great team of enthusiastic parents on the PSA and would love to welcome some new faces! We need people to volunteer to keep up the momentum from this year in terms of events, fundraising and community engagement. Please get in touch if you are interested and have questions about the committee and the roles with which we need help.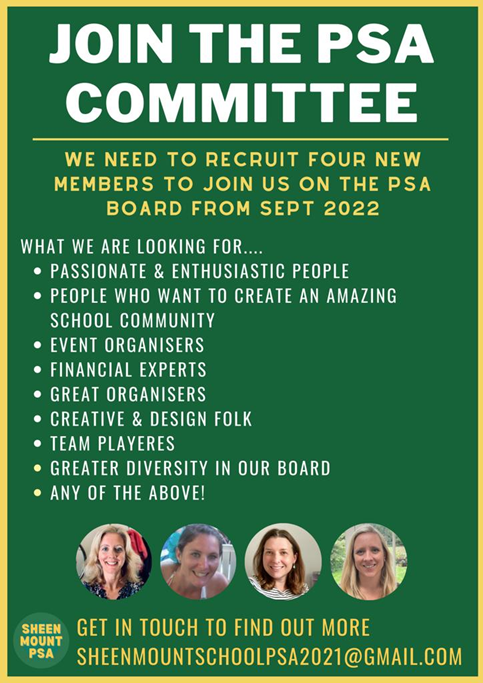 100 Club
To be the next £100 winner, email sm100club@gmail.com to sign-up ahead of the July drawing. We have a number of people who have signed up, but have not completed the forms, so we will be in touch again shortly. The more the merrier… you've got to be in it, to win it!!!
As always, if you have any general PSA-related questions or want to get involved, please contact us via email (smpsachair@gmail.com) or through the class reps.
Have a good weekend

Tom Holmes - Headteacher

Maria O'Brien - Deputy Headteacher