Hello everyone,
Thank you to everyone who has been working so hard this week to prepare for the Christmas Fair tomorrow. I will look forward to seeing lots of you there.
Christmas Singing
Earlier this term, I had to take the decision that all singing would take place outside of the classrooms. This followed our increase in Covid cases and was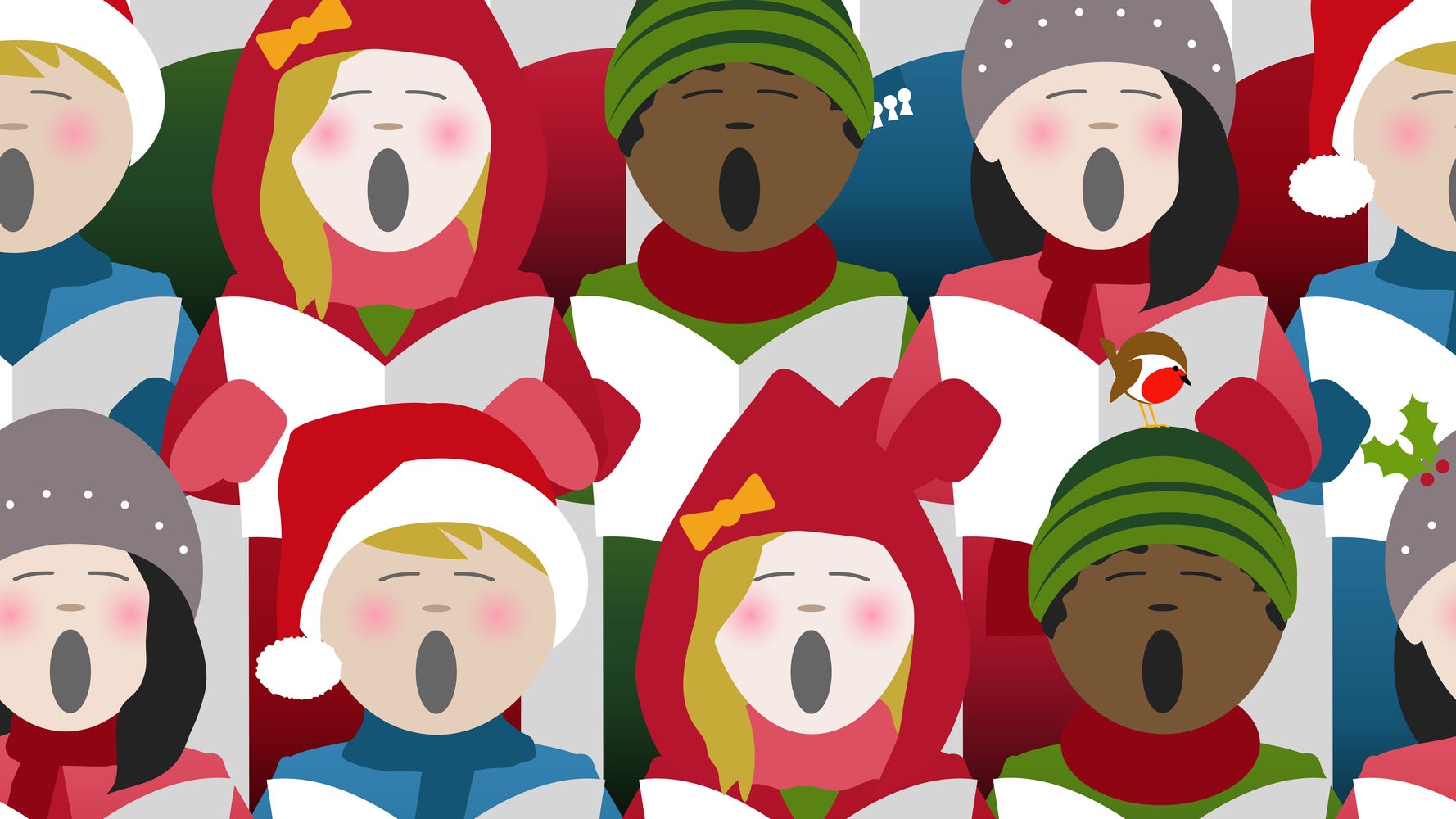 on the advice of the Infection Control Nurse from Public Health England. We have persevered despite freezing temperatures, sleet and rain and it has been lovely to hear the sound of Christmas singing coming from around the school. Although we are not able to hold any singing events indoors, we have decided that we can sing some festive songs at drop off and pick up. We are having to do this in year groups rather than phases and so these will take place over the next two weeks. These will be low-key events but I'm sure they will bring a smile to your face as we bring the spirit of Christmas to Sheen Mount. I'm hoping we can sing whatever the weather, so wrap up warmly. The schedule is as follows:
Reception: Thursday 9th December at 2.50 pm
Year 1: Friday 10th December at 2.50 pm
Year 3: Tuesday 14th December at 9.10 am
Year 4: Tuesday 14th December at 2.50 pm
Year 2: Wednesday 15th December at 2.50 pm
Year 5: Thursday 16th December at 9.10 am
Year 6: Thursday 16th December at 2.50 pm
For morning singing sessions, please drop off your children as normal, leave through the blue gate and then come back round to queue at the brown gate again whilst we register the children and get them onto the playground.
For afternoon singing sessions, please come to the brown gate at 2.45pm we will let you in once the children are ready to sing.
Height and Weight Checks
A reminder that Year 6 will have their height and weight checked at school as part of the National Child Measurement Programme on Monday 6 December at school. Thank you to all those who have already registered.
If you have not yet accessed the portal to receive information and register on the 2021-2022 NCMP (National Child Measurement Programme) and to opt out should you wish to, please find the link again below here:
https://app.schoolscreener.com/Portal/#/36378/p/WH82/102897
Clubs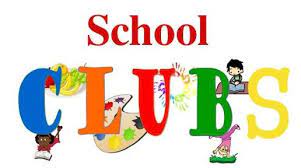 All clubs will finish on their respective day, in the week commencing Monday 6 December. The exception is basketball, which will run catch-up sessions on the usual club days, Tuesday 14 and Wednesday 15 December.
External club booking information will be sent on Monday 6 December; we hope to welcome back more of our club providers for the spring term, and we will send those details when we have them.
The spring 2022 first half-term internal football clubs run by Mr March will go live on Arbor, Wednesday 8 December at 8pm.
Unfortunately, due to the growing rise in Covid cases, and concern over the new variant, we have decided to continue our policy of no clubs in classrooms. We are keen to run choir but we will monitor the guidance after the Christmas break on whether indoor singing is advisable.
All clubs, pending any government restrictions, will start week commencing Monday 10 January 2022.
A Year 6 Initiative - Pinecone People
We are the Pinecone People. Over the last month, we have been helping Mrs Hay to make our school greener by making leaf compost and picking up litter in our woods. We came up with the idea to not only help our planet, but also to raise money for the school so, we are taking part in the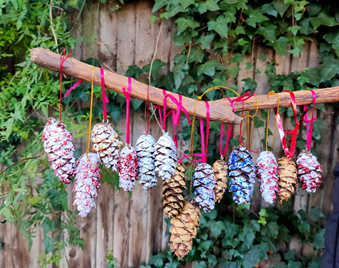 Christmas Fair. We set to work, collecting hundreds of pinecones to paint and decorate and we have selected a few festive crafts to make. These couple of weeks have been packed full of fun and each and every one of us has enjoyed it. By selling these crafts, we are hoping to raise money to buy 'hot bins' which are compost bins made out of recycled plastic. On the day of the Christmas Fair we, the Pinecone People, will help run the stall. We really hope to raise enough money but even if we are unable to, it's been an amazing experience all the same.
Layla, Hala, Hila, Daisy, Lwena, Antalya, Kayla, Josh, Zain, Lana Idil, Bade, Mary, Willow and Dexter.
Christmas Fair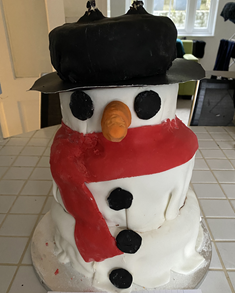 Thank you everyone for all the bottle and cake donations for the Christmas Fair. I was particularly impressed with the Christmas cakes that have been put forward for the Festive Bake Competition. I am in awe of your baking and decoration skills and it is going to be hard competition to judge. Here is an example from Rose in Year 6. What an amazing cake. I'm sure it tastes as good as it looks! The judging will take place at about midday tomorrow. Then the cakes can be put up for sale. They'll go very quickly I'm sure.
PSA Corner
Sheen Mount Christmas Fair - Saturday 4th December
11am - 3pm
£1 entry on the door, card and cash accepted
Please wear a mask if you are over 11 and conduct a lateral flow test before attending to help keep everyone safe. Thank you!
LOTS of fun things happening such as NERF gun challenge, cake stall, Netball Challenge, Snow Ball game, BBQ and Bar, including mulled wine, hot dogs and warming soup, Santa's Grotto, piggy racing, photo booth, snowman and paper wreath-making crafts, bottle tombola, Secret Santa, wine tasting with Wine @ Heart (see below), raffles, launch of the 100 Club and more.
We will have hand gel, anti-bacterial wipes and plenty of ventilation.
Wine @ Heart will be holding wine tastings throughout the day at the Christmas Fair - to try some delicious wine and learn more about what you are sampling - join your friends and snap up your tickets now at www.wineatheart.co.uk/shop/p/sheen-mount-fair
And last but not least, another huge thank you to the huge number of people volunteering their time and energy both ahead of and during the Fair. It would simply not be possible without everyone pitching in, so thanks once again!
Christmas Trees - Sunday 5th December
If you have purchased a Christmas Tree from school, please come to collect between 3pm and 6pm (Christchurch Road entrance). We will also be selling some festive fizz!
If you opted for delivery, the team will be coming to your door on Sunday with your tree. If you are not at home, we will leave this outside your door.
A Magical Christmas (11/12 Dec)
Kiddiewinks presents A Magical Christmas, an enchanting family show following Santa and his two elves. Huge thanks to Kathryn and Mads Hauge for the fantastic idea of holding a Christmas spectacular at Sheen Mount and for contributing a portion of the ticket sales to the PSA. It promises to be a lovely seasonal event for the entire family. There are tickets left for only one show on Saturday at 5pm, so get your tickets now before they're all gone!! More detail and tickets at: http://buytickets.at/kiddiewinks
The PSA needs your help for food and drink sales around the Christmas Show. Please email smpsachair@gmail.com if you can spare a half hour or hour to help on the 11th and 12th of December. If you are attending the show, please consider coming 30 mins ahead of time or staying late in order to help out. Thank you so much!!
As always, if you have any general PSA-related questions or want to get involved, please contact us via email (smpsachair@gmail.com) or through the class reps.
So, have a lovely weekend everyone and I'll see some of you tomorrow and the rest of you next week.