Hello everyone,
This week has absolutely flown by and I cannot believe I am writing another newsletter already. However, this week, I'm afraid, I have to start with a Covid-19 update that I have been hoping to avoid.
Some of you are aware that our Covid cases have been rising, particularly in certain classes, and we have had around 30 cases since we returned in September; this includes two teaching assistants and, currently, two teachers. Yesterday, I had to phone the Infection Control Nurse, overseeing Richmond and Wandsworth as part of Public Health England (PHE), to inform her that we now have 5 children who are likely to have mixed closely and have tested positive for COVID within a 10-day period. When this threshold is reached, we have to review and reinforce the testing, hygiene and ventilation measures we already have in place. This puts us into a 'green' category of measures as part of the contingency framework but with other cases in the same year group, we are heading towards the 'amber' category.
So I now need your help.
I have been advised to put extra measures in place and this is what I have done:
parents of the affected class have been asked to lateral flow their child at least twice weekly (more, if possible)
all assemblies will take place virtually next week - we will not gather together in the hall
staff have been asked to take lateral flow tests more than twice weekly and have been reminded about the importance of social distancing
there is increased cleaning in the classrooms, with a particular emphasis on high touch points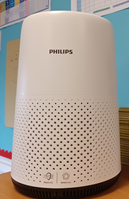 As well as this, I am delighted that the first batch of Philips Air Purifiers (equipped with NanoProtect HEPA filters that remove impurities such as viruses, bacteria and harmful gases) have arrived and been installed in all classes which have had recent cases. Many thanks to Dishan Manoharan for his research into the filters and Andrew Gardiner for leading on this on behalf of the PSA. The remaining air purifiers will be arriving next week and all classes will have one, as well as other areas in the school where lots of people gather.
So now it is the job of us all to make sure that we do not move into 'amber' or 'red' measures, which will be much more restrictive and risk the closing of clubs or even classes. None of us want to return to the days of online teaching and learning.
Please do everything possible to help and whilst I cannot insist that you do these things, I am asking you to:
wear your masks when you are on the school premises - including when you drop your children off at Fit for Sport or enter the main reception
use lateral flow tests to make sure your children are virus free
take your child for a PCR test if they show any of the Covid symptoms - high temperature, cough or loss of taste and smell
Thank you. I know that if we work together we can avoid any further disruption.
Children in Need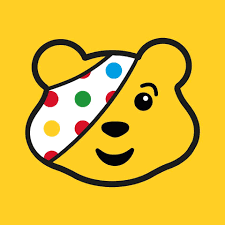 This year, once again, we will be supporting the charity 'Children in Need' and we will be having a 'Be Yourself' day next Friday 19th November. This means you can wear your own clothes - the brighter, the better! As you will probably know, BBC Children in Need supports children throughout the UK facing disadvantages including illness, poverty and deprivation, marginalisation, disability, behavioural difficulties and neglect or abuse.
Please use this link to make a donation:
https://www.justgiving.com/fundraising/Sheen-Mount-Primary-School7
Keeping Each Other Safe
Safeguarding children online – Setting parental controls
This is the time of year when you may be buying devices that access the internet for your children and we would like to remind you of the importance of setting parental controls before giving the devices to your children. Please click on these links for some good advice:
· Parental safeguards template
Mrs Laura Jeffery (Designated Safeguarding Lead)
PSA Corner
PSA – newsletter contribution 12 Nov 2021
Another week of event planning for the PSA, the class reps and countless other volunteers! Thanks again for everyone's efforts as we very much look forward to the slate of events through year-end. Please see below for announcements regarding the Autumn Ball and the Christmas trinity of the Fair, Trees and Show.
But before we get to that, we wanted to share with everyone what your generous fundraising has been applied to so far this year. Thanks to improved fundraising over the past few months and visibility into the coming events, the PSA is able to fund the new books and phonics system for Reception to Year 2, air filters for the classrooms (first ones delivered this Wednesday!) additional classroom supplies (above the statutory funded level), playground equipment, science bags and the reception team t-shirts. In total, the PSA has agreed to fund just over £22k in expenditure since the beginning of the year.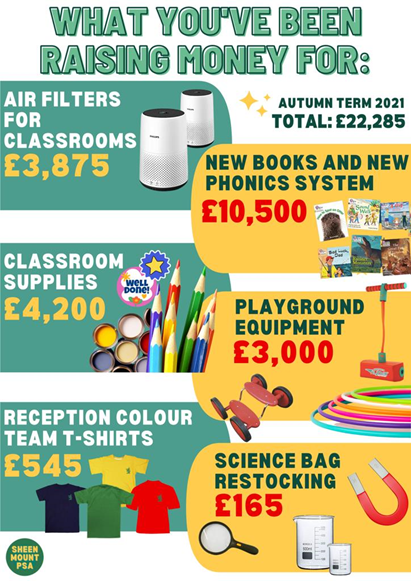 These items have been requested by the school with some urgency and so the PSA's funding of these leaves us roughly neutral in terms of inflows and outflows for the year. We recognise the various pressures on finances at present, but we ask you to keep the school's needs in mind and continue to generously support the PSA, in particular through the upcoming events.
With that in mind…
Autumn Ball (19 Nov): the Ball is now only 1 week away! Table heads please look out for further information in your inbox. The silent auction is open to all, so please see the brochure that has been sent this week.
Christmas Fair (4 Dec): planning is very much under way for this year's fair. Thank you to the huge numbers of you involved in the preparation!! With that in mind, grotto tickets will be on sale in the coming week. Tickets are £5 per child and can be purchased 15-19 Nov after morning drop-off near the school office.
A number of the year groups also need your help in their preparations!
Year 4 would love…
Year 5 would love…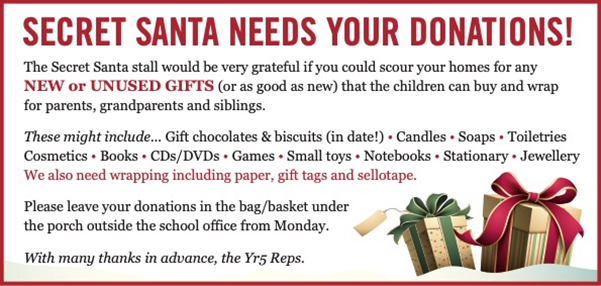 Year 6 would love…
...your book donations, please, to be left on the ping pong (left-hand side as you come through Christchurch Road entrance) table after drop-off on Friday mornings leading up to the Fair. Please make sure they are in good condition.
The PSA team would love...
... to have some extra volunteers on the day of the Fair (4 Dec) to help do a slot on the bottle raffle, teachers' raffle etc. If you could spare an hour of your time we would be really grateful! It is fun, super easy, buzzing and the time flies by. If you can help, please email your name to classrepco@gmail.com and we will come straight back to you.
Christmas Tree sale (5 Dec pick-up): see the below graphic (and link) for information on the trees and to order. The PSA intends to help meet the school's request for classroom filters with proceeds from this year's tree sale. Please click this link for more information.
A Magical Christmas (11/12 Dec): Kiddiewinks presents A Magical Christmas, an enchanting family show following Santa and his two elves. Huge thanks to Kathryn and Mads Hauge for the fantastic idea of holding a Christmas spectacular at Sheen Mount and for contributing a portion of the ticket sales to the PSA. It promises to be a lovely seasonal event for the entire family. Some shows have sold out, so get your tickets soon!! More detail and tickets at: http://buytickets.at/kiddiewinks
As always, if you have any general PSA-related questions or want to get involved, please contact us via email (smpsachair@gmail.com) or through the class reps.
So have a lovely weekend everyone and I'll see you all next week.