Hello everyone,
Firstly, thank you for your response to my message regarding COVID last week. I have definitely seen more of you wearing masks as you come into school. Even better, many more of you are wearing them as you are waiting into the queue to enter. You will have seen the rising numbers of COVID cases around the country and so everything we can do to keep ourselves safe, and the schools open, is important.
I would also like to ask you to remain vigilant for Covid-19 over the half-term. If any member of your household shows symptoms then please get a PCR test, and report the result to info@sheenmount.richmond.sch.uk We will be monitoring the inbox throughout the half-term.
For more information please refer to the NHS website: https://www.nhs.uk/conditions/coronavirus-covid-19/symptoms/
Sporting News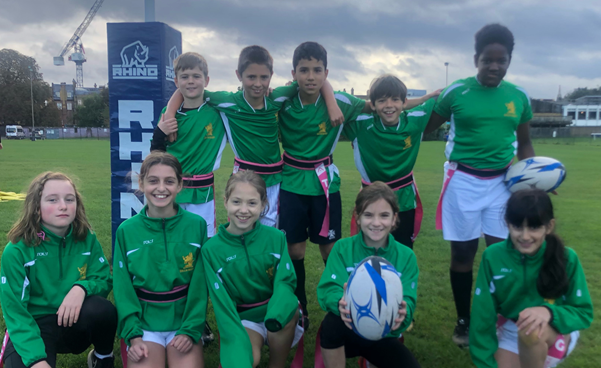 On Wednesday the 20th of October a selection of Year 5 and 6 children went on a rugby tournament to Richmond Rugby ground, including teams from across the whole borough. It was Sheen Mount's first rugby tournament since Lockdown and the first tournament with Mr March. We played six matches: won three, lost two and drew one. It was a brilliantly entertaining tournament. We came fourth out of fifteen teams or more. In the rugby, we demonstrated our living value 'unity' and succeeded. Overall, it was an outstanding day and we wish we could do it again.
By Freddie, Anneli and Daniel
Charity News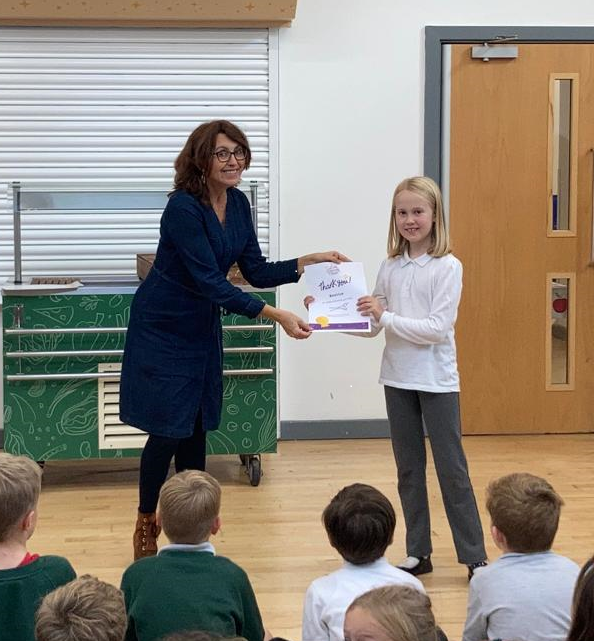 There have been so many lovely stories about raising charity this term, in all year groups but this one is slightly different. Beatrice, in Year 4, has donated some of her hair to the Little Princess Trust who make wigs for children who are being treated for cancer. Well done, Beatrice. Here she is receiving her certificate from Mrs Teeling in assembly.
INSET Day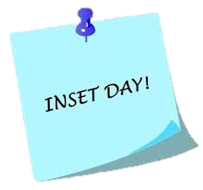 Please remember that Monday 1 November, the first day after half-term, is an INSET day and school will be closed to pupils. We always have a couple of children who turn up, so please make sure that you remember the children return on Tuesday 2nd November!
Secondary Transfer
A reminder that the deadline for submitting the secondary transfer form, for Year 6 children, is the 31st October 2021. We emailed you regarding this, as well. Don't let the deadline pass you by because it is in the half-term holiday.
Does your child find it hard to sleep?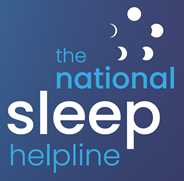 Did you know that one in four children in the UK are not getting enough sleep? This has an impact on their behaviour and ability to learn, as well as their physical health. If your child suffers with sleep issues the national sleep helpline might be very useful. Please click this link for support:
Nasal Flu Spray
Just a reminder about consenting to your child having the nasal flu spray on the 10th November. A reminder has been sent to you via email.
PSA Corner
Message from a grateful PSA:
The PSA Board would like to express our gratitude for the support of all pupils, parents and staff during the first part of the Autumn Term. We have really enjoyed getting back to some degree of normalcy with the PSA events, seeing old friends, meeting new ones and raising much-needed funds for the school along the way. We're sure you'll join us in looking forward to more to come before year-end! We also wanted to send big thanks to all the class reps for their hard work so far this year!!
Together the PSA & the Autumn Ball Committee would like to send out a HUGE thank you to everyone who has been in touch with donations for the Ball. We have collated an exciting list of prizes for the LIVE and SILENT auctions at the Ball - the Sheen Mount Community strikes again! If anyone still wanted to put something forward - please let us know this weekend as we will have to close the list next week.
We are aiming to get the Auction Brochure out to all parents 2 weeks before the event on the 19th, so anyone not attending can also bid. If you are not attending the Ball but could spare a couple of hours on the night to help, please do get in touch
As always, if you have any general PSA-related questions or want to get involved, please contact us via email (smpsachair@gmail.com) or through the class reps.
A great half-term break to you all!!
I would also like to add my thanks to you all for your support this first half-term and to publicly thank the entire Sheen Mount team, and the Governing Board, who have worked so hard to help me lead the school through the first part of this academic year. I am incredibly grateful to you all.
So, have a lovely weekend everyone and a restful half-term. Stay safe and healthy and I'll see you all on Tuesday 2nd November.