Hello everyone,
Well, what a start to the day with that torrential rain - I'm just glad the weather improved and we managed to get the children out in the fresh air. Here's hoping for some calmer weather next week!
PSA
It's been another busy week here at Sheen Mount. We had a great PSA meeting on Tuesday evening and the willingness to support the school in all sorts of ways was heartwarming. That support has already started as you will see in this message from the PSA team.

A big thank you from the PSA Board to all those who attended this week's PSA meeting. For those unable to make it, we had a very productive discussion about the PSA's plan for this year in terms of events, community engagement and fundraising. The big ticket item that the PSA is seeking to raise money for in the near-term is the school's significant investment in the required new phonics scheme for Reception to Year 3 (c£10.5k). Look out for a more comprehensive overview via your class reps over the weekend. Thanks as always for all your ideas, energy and involvement!
A further thank you to Maddie Marx and Nee who organized the second hand uniform sale. They raised £435 for the school with Wednesday's sale! It's been great to be back with in-person events for the first time in ages!!
Looking to the coming weeks, a few reminders and notifications:
8 October – PSA Welcome Party for Reception/Year 1: There will be a party in the Berners-Lee Hall for all Reception and Year 1 parents, 7.30 - 10.30pm. We are so pleased to be able to hold this event for the Year 1 parents who missed out last year as well as the new Reception parents. Pop it in your diaries! Volunteers needed to help with the bar, please contact your class reps to sign up for a stint.
15 October – Christmas card art due back: your child will soon return home with some artwork to create beautifully designed cards, mugs, tags and/or wrapping paper. Additional detail has been sent by the class reps, but remember 15 October is the firm deadline for ordering and returning artwork.
5 November – Christ's School Fireworks Night: Christ's School Richmond will be holding its annual fireworks night on November 5th and the Sheen Mount PSA will receive 5% of any tickets sales when you select Sheen Mount under 'Pupil's Class' on the order form. Early bird tickets now on sale at: http://www.pta-events.co.uk/christsschoolpsarichmond/#.YVXMa5rMJPZ
If you have any general PSA-related questions or want to get involved, please contact us via email (smpsachair@gmail.com) or through the class reps.
Secondary Transfer Webinar

I am pleased to let you know that Sam Scott, the Head of School Admissions in the borough has agreed to put on a webinar for all parents whose children are transferring to secondary schools in September 2022. This webinar will be at 6pm on Thursday 7th October. Here is the link to the meeting:
I hope it is useful.
In Other News
Our online Parent Consultations will take place during the last week of this half term. They will be held from 3.45 - 6.00pm on:
Monday 18th October 2021
Wednesday 20th October 2021, and
Thursday 21st October 2021
An email will come out next week explaining how to book your appointments.
Engine Shed
A headteacher colleague of mine let me know about this. It's a local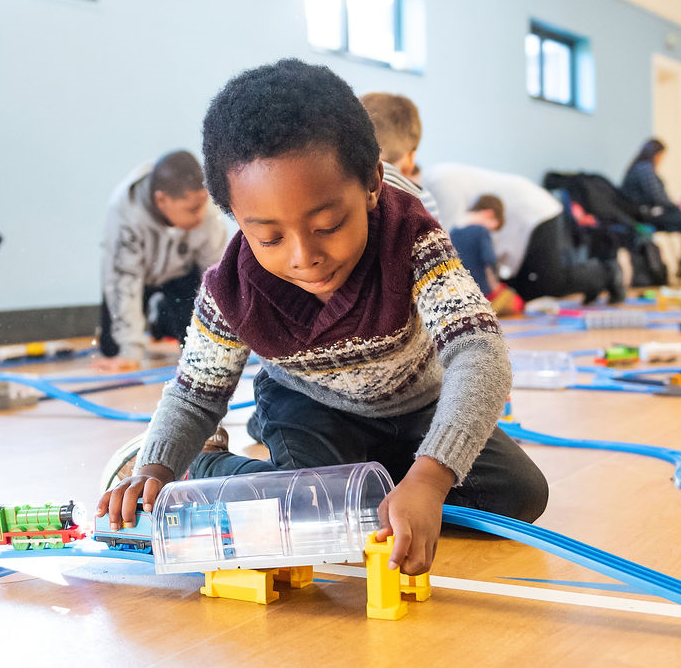 provision for ASD and ADHD children which he would thoroughly recommend as his own little boy goes there. The 'All Aboard Club' runs inclusive play sessions for autistic & ADHD children, where they can play with giant train sets in a safe, understanding and inclusive environment.
By playing together, they can develop their social and communication skills while enjoying their trains. All the sessions are run by staff with lived experience of autism/ADHD.
There are regular play sessions in Barnes and Brentford at weekends. For details of locations, dates and to book tickets, visit the website: https://www.allaboardclub.com/play-sessions/
If you have any questions, please contact the director,Richard Semmens, by email richard@allaboardclub.com or ring/text him on 07948 407343.
Mental Health Support Team (MHST)
Our Mental Health Support Team have been in touch to inform us that they are running a workshop on separation anxiety. Here are the details:

Does your child or young person really struggle to separate from you when they go to school? Following lockdown, a lot of children and young people are finding it hard to separate from parents and caregivers. The MHST will be running a live 90 minute workshop on separation anxiety for parents/carers. The aim of this workshop is to help you identify anxious behaviours, think about what maintains these and provide you with some ideas on what you can do to help your child or young person overcome these challenges.
The MHST will be running one workshop over 2 dates (please note, it will be the same workshop offered on each date). Please book your tickets for one workshop using the Eventbrite link below.
Tuesday 12th October 2021 (6.30pm - 8pm):
https://www.eventbrite.co.uk/e/mhst-workshop-separation-anxiety-12102021-tickets-181874951877
Friday 5th November 2021 (10am - 11.30am):
https://www.eventbrite.co.uk/e/mhst-workshop-separation-anxiety-05112021-tickets-181877609827
For further information, please read this leaflet.
So, have a lovely weekend everyone and I'll see you all next week.