Hello everyone,
Goodness me, this week has gone quickly! It's been lovely seeing so many of you attending the 'Meet the Teacher' meetings, it's been too long since we've been able to meet face to face. Thank you, also, for adhering to our request to wear masks and sanitise your hands. It feels like things are really getting back to normal but we all know the virus is still out there and we have to be sensible and careful.
I'm really looking forward to next Tuesday evening when I will be able to meet even more of you at the PSA meeting - please see the details of this below.
Secondary Transfer
I spoke to Year 6 parents last week about secondary transfer. I promised to forward the Borough powerpoint with information about this, and you can find this presentation here:
AfC Secondary Transfer Presentation

The Admission to Richmond's Secondary Schools guide and the Richmond schools brochure are available on the Richmond Council website. These have been revised, and provide detailed information on the application process and the borough schools.
I spoke to the Head of School Admissions and she said that, if there was enough interest, she was happy to run a webinar to help. If you are a Year 6 parent, and think this would be useful, could you email the office with the subject 'Secondary Transfer Webinar' and I will contact her again.
Swimming
It's lovely that we are back swimming again in our fantastic pool. Year 5 and Year 6 have been the first Sheen Mount children to use the pool this year. They will continue swimming until three weeks after half-term, then it will be the turn of Years 3 and 4. May I gently remind you that we ask parents to make a £10 voluntary contribution towards these lessons, to help with the costs of running the swimming pool and the lessons provided. This can be made via Arbor.
School Lunches
Now we have gone through a full menu cycle, the school and Accent Catering are keen to know your child's views on school lunches. We would be grateful if you would fill in this survey with your child over the weekend: https://www.surveymonkey.co.uk/r/93M3YJY. We will take the responses into consideration at our forthcoming menu review.
From the PSA:
We are very much looking forward to kicking off this term's slate of PSA events next week, first with the PSA meeting on Tuesday evening followed by the second hand uniform sale the next day. We look forward to seeing as many of you as possible on Tuesday!!
In this week's newsletter, we just wanted to send a brief reminder of the upcoming events for your diaries.
28 Sep – PSA Meeting: 1st meeting of the school year, all parents/carers encouraged to attend. Come and meet your new PSA Team! We will discuss the PSA's plans for the coming year, the school's needs and have updates from Mrs. O'Brien. Berners-Lee Hall (aka the school hall), 7.30-8.30pm.
29 Sep – Second Hand Uniform Sale: Berners-Lee Hall, following morning drop-off. Special thanks to Maddie Marx for organising!
08 Oct – PSA Welcome Party for Reception/Year 1: There will be a party in the Berners-Lee Hall for all Reception and Year 1 parents, 7.30 -10.30pm. We are so pleased to be able to hold this event for the Year 1 parents who missed out last year as well as the new Reception parents. Pop it in your diaries! Volunteers needed to help with the bar, please contact your class reps to sign up for a stint.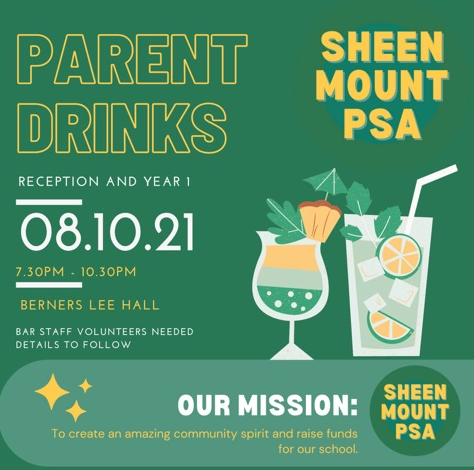 19 Nov – PSA Autumn Ball: one of our big annual fundraisers and a really fun event to get more involved in the amazing community that is Sheen Mount. All profits from the event go to the school. Tickets go on sale Monday 27th September, 8pm on Arbor (£850 per 10 person table) and remember they sell out quickly so pop a reminder in your diary. 19 November, 7.30pm -1am, at the Richmond Hill Hotel. If you have any further questions please email the ball committee directly and they will get back to you ASAP.
Please find more information here:
If you have any general PSA-related questions or want to get involved, please contact us via email (smpsachair@gmail.com) or through the class reps.
A final reminder from me. I'm really pleased that so many of the children, and parents, are scooting or cycling to school - just what I would expect. However, may I remind you all to get off your bikes and scooters BEFORE you enter the gates. We have had a couple of near misses this week as people have cycled or scooted in. Many thanks.
So have a lovely weekend everyone and I'll see you all next week.