Dear Parents,
I hope you found the parent consultation meetings last week enjoyable as they play an invaluable role in your children's education. We had Forest School re-start this half-term for Year 1. We are committed to finding this time in the curriculum for them and our Reception and Year 2 classes. Each class will have a four-week programme delivered by an outside specialist.
A reminder that it is Children In Need day on Friday (tomorrow). Children may wear 1 'spotty' item to school - this could be a part of the uniform or an accessory. We encourage parents to contribute to national donations. The link is here and on the email earlier in the week- https://donate.bbcchildreninneed.co.uk/
We look forward to seeing many of you at the school quiz tomorrow night.
Living values
Keep your eyes peeled throughout next week, as some artwork appears on the blue railing gates as you walk into the school. It is inspired by some collaborative work our Year 5s carried out and is connected to our Living Values.
Christmas concerts/shows
A reminder of the key dates sent out at the beginning of term.
| | |
| --- | --- |
| Event | Date |
| Year 2 Christmas Show | Surnames A-H Tuesday 12th and Surnames I-Z Wednesday 13th December 9.15am |
| Year 1 Christmas Concert | Thursday 14th December 9.15am |
| Reception Christmas Concert | Friday 15th December 9.15am |
| Y3 & Y4 (LKS2) Christmas concert (at Christchurch) | Wednesday 20th December 2pm |
| Y5 & Y6 (UKS2) Christmas concert (at Christchurch) | Wednesday 20th December 7.15pm |
School Field-Astroturf
As you may have noticed, the groundworks are now complete. The children had an interesting time watching the process. We now have the fencing to be installed next week, followed by the layering of the artificial grass; we are hopeful of a finish before the end of term.
School Streets
I have engaged with the above programme and I am pleased to say we have been put forward to take part in the next group of schools (phase 4).
You will shortly see the school streets programme engage with the community on proposals to bring School Street to West Temple Sheen. This programme is run in conjunction with the council and this is very much an open consultation as to how it might be implemented; there is no set plan of what this would look like. I am sure lots of parents will engage with the process as I have received regular feedback about parents' frustration with this road.
School Open Morning -prospective parents
We had our second school open morning yesterday, with over 70 parents attending and we now have some of our current parents as volunteers, walking around with our Year 6 children - thank you to all those that have helped.
One aspect that has really altered this year is schools' 'catchment' areas. There is a significant birth decrease occurring in the area, with a 30% drop of 0-4 year olds. Therefore, the key message is that Sheen Mount is a possibility for parents outside the traditional recent catchment area of 900 metres. Indeed, 80% of primary schools within Richmond borough had spaces in their reception classes this year-this is unheard of for most schools.
Please help to spread the message that Sheen Mount will be a viable option for a lot more parents. We encourage them to come to the open mornings (there is one more this year on Thursday 7th December) and they can sign up here- https://www.sheenmount.richmond.sch.uk/page/?title=Open+Mornings+%2F+School+Tours&pid=35
Christmas Fair-wear your own clothes day.
The countdown has begun to this significant community event. The date is Saturday 2nd December from 11-3pm.
There will be a wear your own clothes day on Thursday 30th November and children should bring a bottle for this event. A message from the PSA-please can we have no open bottles or soft drinks.
English reading lists
Many thanks to Miss Breckon for putting together these recommended reading lists that you can find on the website-https://www.sheenmount.richmond.sch.uk/attachments/download.asp?file=587&type=pdf
She also came across a unique way of producing reading lists that connect books through genres. They appear an excellent resource for you to use-
https://www.sheenmount.richmond.sch.uk/attachments/download.asp?file=586&type=pdf
Year 6 ambassadors - from our maths lead-Mrs Humphreys.
Year 6 Ambassadors
This week is the turn of the Maths Ambassadors. Our Maths Ambassadors are Luke, George, Samuel, Daniel and Deniz. They would like to share with you their roles and responsibilities for this academic year, as well as what they enjoy about maths at Sheen Mount.
Roles and Responsibilities:
Our Maths Ambassadors are responsible to promote a love of maths in school and to take on feedback from all the children about maths and then communicate this with Mrs Humphreys. Not only this, our ambassadors will work with children in different year groups to help support their number fluency!
Why do we enjoy maths at Sheen Mount?
Luke: Maths is a very interesting subject and I love learning new methods to help me solve problems.
George: I really enjoy being challenged in maths and solving problems.
Samuel: My favourite part of maths is arithmetic!
Daniel: Maths at Sheen Mount is great because it is engaging and the teachers teach maths in an interactive way!
Deniz: Maths is one of my best subjects and I enjoy finding different to solve a problem.
Wearing PE kit for sports clubs before and after school
I've noticed that more and more children are wearing school uniform for sports clubs before school. Children should wear appropriate clothing when taking part in sports clubs-this could be the school PE kit or their own sports wear.
100 club.
Please see this month's winner-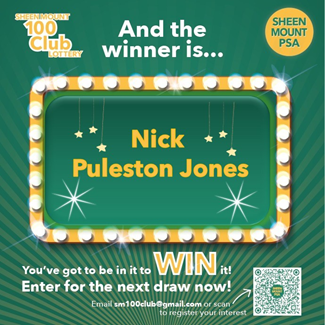 Christmas Gift Bags-a reminder
The charity Richmond Good Neighbours would love your help again to prepare Christmas gift bags for lonely, often vulnerable and elderly residents to make sure they don't feel forgotten about at Christmas! https://www.richmondgoodneighbours.org.uk/
The charity would like to include the following four things in each bag:
1. Letter
a personalised letter from the kids ( including name, something about themselves and obviously wishing a Merry Christmas) - you can make it as personal, short or long, as you like.
2. Something Home-made/crafted
Last year the kids made things like Xmas decorations, coasters etc... basically whatever you can think of and your kids would be happy to make!
3. An edible treat
e.g. mince pies, chocolates, chutney, Christmas tea, etc (shop bought with a use by date after Xmas)
4. A little present
e.g. hand creams, shower gel, quiz books, hot water bottle, colouring pencils/colouring book, candle, tea towel etc (Cosmetics can be sample size).
The rule of thumb is - if you would like to receive it in a gift bag, you can't be too wrong.
- NO alcohol (expressly stated by the charity)
The charity suggested a value of around £10 per bag (but it's ok if it's less or a little more).
Please wrap up your presents and put them inside the gift bags.
We need both female and unisex bags (please label accordingly).
Drop off: Reception from Friday 24th November
Deadline: Friday 1 December
Any questions, please contact Cornelia (Year 4 parent) who will be coordinating the bags for the charity
Have a good weekend
Tom Holmes - Headteacher

Maria O'Brien - Deputy Headteacher